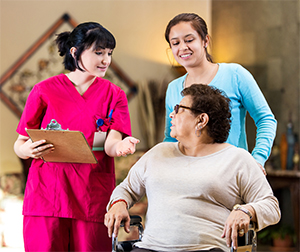 After Bob W. had knee replacement surgery, he didn't stay at a specialized rehab facility or receive physical therapy while living in a nursing home. Instead, Bob went directly home to heal. And he wasn't alone. In a major nationwide trend, recovery from knee and hip replacement surgery is more often taking place at home – with impressive results. Read on to discover why you could enjoy a faster, completely safe recovery at home. Yes, even if you live alone.
Healing at Home – Why it's Trending.
Traditionally, recovery from hip and knee replacement surgery could involve up to a week's stay in the hospital, followed by weeks of residence in a rehab facility. Over the last five to ten years, the majority of these patients began staying at sub-acute facilities that provided more limited physical therapy (PT) and had the feel of a nursing home. That development led to diminished patient satisfaction and results. Meanwhile, orthopedic surgeons' own outcomes studies consistently found that patients recovering at home had better results and lower complication rates than those at sub-acute facilities. It became clear that, when appropriate, patients healed better at home.
Learn more about Dr. Grossman and joint replacement surgery.
The heal-at-home trend is nothing short of a sea change. Today, over 85 percent of my Medicare patients go directly home following knee or hip replacement surgery. Ensconced at home, patients go to outpatient PT; or receive in-home therapy from visiting therapists; or use the latest delivery method in PT – an online- and app-based program. Reflecting NWH's patient-centered approach, my office is very attentive to our patients' home-recovery needs. My nurse and I text with at-home patients, providing real-time contact and reassurance.
Given a choice, almost everyone wants to recover at home. "My patients get excited when we broach the idea. They like the idea of being with their pets or just enjoying the quiet comfort of home."
Is it Safe?
Important advances in knee and hip replacement surgical techniques and pain management paved the way for the home rehab revolution. The newer anterior approach to hip replacement surgery leaves key muscles intact — not detaching tendons — and makes the replaced hip immediately more functional. We spare your gluteal muscles, which are your walking muscles, so you're able to be active faster. And patients don't require a set of precautions to keep the hip from dislocating, a concern that used to make it less safe to go home.
Simultaneous refinements in total knee replacement surgery include better implant materials; patient-specific instruments and, in some cases, implants; the use of robotic technology for partial knee replacement; and a widening arsenal of sophisticated pain control techniques.
It was post-op pain control – particularly following knee replacement surgery – that needed to improve before patients could recover at home. At NWH, we use a program called ERAS (Enhanced Recovery After Surgery) which integrates anesthesia, physical therapy and orthopedic care teams to better manage patients' recovery while in the hospital and after discharge to home. After knee surgery, NWH surgeons use multi-modal pain control that focuses on many different pain pathways. The big breakthrough was our combined use of nerve blocks before or after surgery, and injecting anesthetic directly into knee tissue during surgery, which together provide up to 48 to 72 hours of superb pain control following surgery. That really jump-starts recovery and lets a person comfortably transition to home from hospital.
Home, Healing? How are you feeling?
Today, hip and knee replacement patients at NWH get up the same day as surgery and walk almost without a limp. Gone are the days of post-op patients requiring constant IV narcotics, which would have made going right home impossible. My total hip and knee replacement patients typically go home within 24 to 48 hours, with some going home the day of surgery, particularly hip patients.
At NWH, patients are carefully evaluated to make sure they can go home safely. Physical therapists gather detailed information about their home environment and tailor therapy accordingly. You must pass mobility and independence benchmarks, which most elective joint replacement patients are able to do. On the other hand, we wouldn't use a home-based approach with, for example, a person in their 80s with balance issues; or a patient with dementia.
In addition to PT outside the home, from in-home therapists, or through a computer- or tablet-based program, successful and safe at-home healing requires a much more attentive office. Reflecting NWH's highly patient-centered culture, we are very attentive to our patients' home-recovery needs. My nurse and I text with patients, providing real-time contact and reassurance. I've responded to patients' questions and concerns while dining out — and from the beach in Jamaica.
My patients tell me, "I'm so happy I could be home with my family. It pushed me to be more active more quickly." I'm confident this is the best path for most people. If it were me, I'd choose it.
Eric Grossman, MD, FAAOS, Director of Total Joint Arthroplasty at The Rothman Orthopaedic Institute – New York. Dr. Grossman has published research in the field of total joint arthroplasty, and performed approximately 5000 total joint replacements.