Eric L. Grossman, MD FAAOS
Orthopedic Surgery & Total Joint Replacement
Dr. Eric L Grossman received his education and training at Syracuse University Newhouse School of Communications, Columbia University, Jefferson Medical College, Thomas Jefferson University and the world–renowned Rothman Orthopedic Institute. As a member of the esteemed Adult Reconstruction division of NYU Langone Department of Orthopedic Surgery, he has published research in the field of total joint arthroplasty, and performed more than 8000 total joint replacements.
Dr. Grossman has stayed true to his mission of providing patients with exceptional and compassionate care while continuing to utilize innovative and emerging technologies. According to Dr. Grossman "Orthopedic surgery, and particularly total joint replacement, is rapidly improving our surgical accuracy through the usage of innovative robotic platforms and artificial intelligence…we are in an extremely exciting time." Always at the forefront of emerging technologies, he was featured on CBS News with Dr. Max Gomez, Dr. Grossman can be seen speaking about 3D printing in total knee replacement and custom design total knees. As an authority in total joints, he has provided local news with comments on numerous national news stories. (Read more)
Dr. Grossman is a believer in utilizing available technologies including advanced robotic technology and artificial intelligence. These platforms provide surgeons with the ability to provide individualized care, custom to the patients specific needs, with increased surgical accuracy and improved patient outcomes and experience. The robotic technology available to us today is truly an additive support to the surgeons armamentarium, while still allowing for the surgeon to be in control and provide his or her expertise. Robotic and minimally invasive techniques can allow for knee and hip replacement to be highly successful, while allowing for a potentially speedier recovery. Dr. Grossman's goals for his patients are for them to be vastly better than they were before surgery, and allowing for them to return to a vivacious, physical, experience rich, and active life. Many of his patients after total hip and knee replacement, return to hiking, skiing, tennis golf, yoga, and many other activities.
Dr. Grossman has performed thousands of anterior total hip replacements, including in the setting of both primary and revision settings, allowing patients to recover faster, and return to their lives more quickly. Dr. Grossman has been a longtime advocate of the benefits of recovering safely and effectively from total joint replacement surgery in the comfort of ones home, and was an early innovator in sending his patients home the day of surgery, or what is referred to as "Ambulatory/Same day surgery." Dr. Grossman's team at NYU has developed a smooth and thoughtful team approach pathway allowing for same day total joint replacement to be successful for many of our patients.
Dr. Grossman Describes the Anterior Approach to Total Hip Replacement
Dr. Eric Grossman is a member of the Mount Kisco Medical Group and is Director of Joint Replacement Surgery at the Orthopedic and Spine Institute.
Dr. Grossman specializes in the anterior approach, an advancement in hip replacement surgery
The major advantage of the anterior approach to hip replacement is the fact that muscular tendons are not detached. In other approaches, tendon detachment and splitting are unavoidable.
Because the anterior approach spares major muscles and tendons, patients are at low risk for hip dislocation and therefore can regain mobility more quickly, and without following the restrictive hip precautions prescribed for the other hip surgical approaches.
For more information on scheduling an appointment with Dr. Eric Grossman please call 800-321-9999
Dr. Grossman describes the procedure and benefits of the anterior approach to hip replacement in MD News.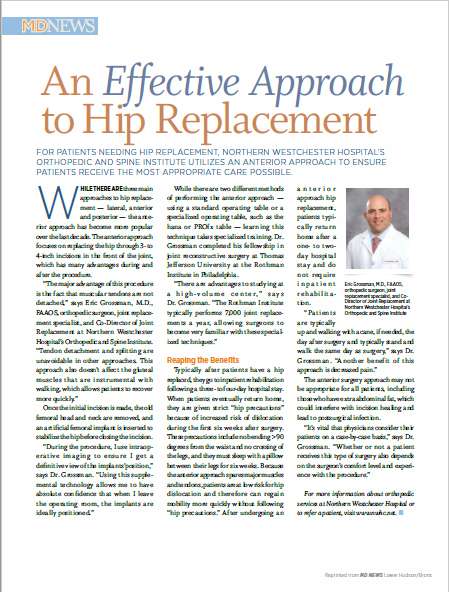 Training
Undergraduate & Graduate Education

Columbia University: 1998
Syracuse University: 1994

Medical Education

Jefferson Medical College: 2003

Internship

Orthopedic Surgery
Thomas Jefferson University: 2004

Residency

Orthopedic Surgery
Thomas Jefferson University: 2008

Fellowship

Adult Reconstruction Orthopedic Surgery
Thomas Jefferson University/ The Rothman Institute: 2009

Board Certifications

Orthopedic Surgery: 2011
Awards & Recognition
Castle Connoly Top Doctor: 2020
Castle Connoly Top Doctor: 2016 & 2017
Westchester Magazine Top Doctor: 2016 & 2017
Affiliations
Hospital Affiliations
Ambulatory Surgery Center of Westchester
Website/Blog
Office Location
NYU Langone Orthopedic Center
333 East 38th Street, 4th Floor,
New York, NY 10016
Office Location
NYU Langone Orthopedics-Westchester
311 North Street, Suite 102,
White Plains, NY 10605
Surgery Location
Langone Orthopedic Hospital
301 East 17th Street
New York, NY 10003
Surgery Location
Northern Westchester Hospital
400 Main Street
Mount Kisco, NY 10549